---
Welcome to Cedar Valley Christian School!

Our Mission
At Cedar Valley Christian School, students experience academic excellence while learning God's unchanging truth, growing in wisdom, and practicing kindness.
Our Vision
Every student develops and faithfully lives out a biblical worldview-based on the foundation provided by the truth of the Bible and the person of Jesus Christ-by learning spiritual, social, academic and physical principles that have been taught and modeled with excellence.
Our Commitment
The purpose of Cedar Valley Christian School is to assist parents with their biblical responsibility to raise their children in the discipline and instruction of the Lord. We attempt to provide academic excellence where fundamental subjects are taught from a biblical viewpoint.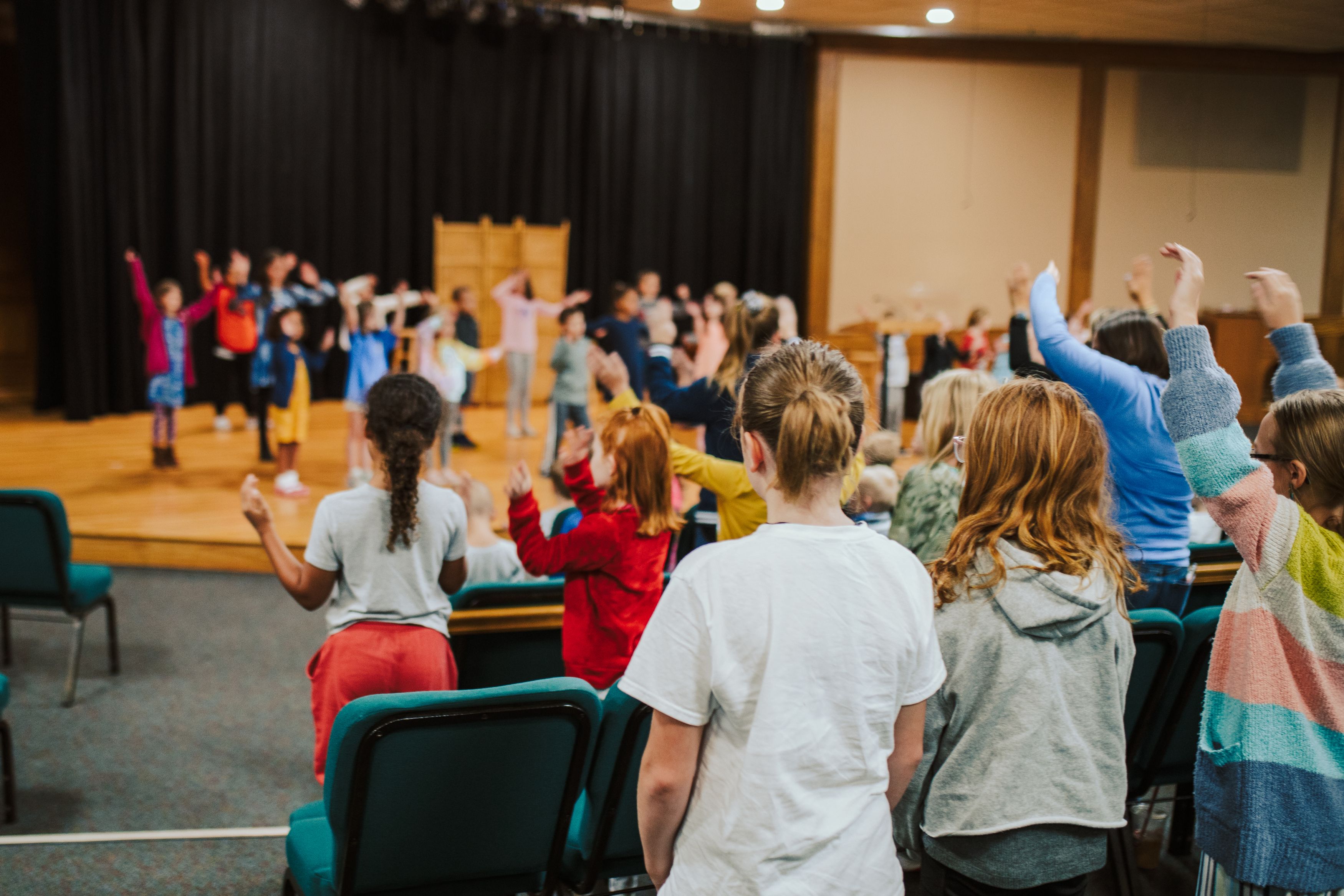 Five guiding principles
The authority of God's Word as revealed in the Bible and recognition that people are saved by God's grace through faith in Jesus Christ.
The integration of biblical truth in all that we do. This includes academics, relationships, and discipline.
The upholding of the parents' responsibility for the education of their children.
The development of sound basic skills in reading, mathematics, writing and reasoning.
The commitment to nurturing all students in their faith in Jesus Christ and their love toward Him.
---
"Our daughter has had the joy of seeing her teacher daily since our distance learning began. Via zoom meetings where she was able to see, talk to and hear her teacher as well as her classmates. They do routine learning items such as calendar, special morning songs and prayer as well as daily videos with a morning routine and story. Mrs. Snodgrass knows her students and keeps the computer time lively, routine and each session is 20 minutes or less which is perfect for our pre school learning level. Our daughter has been able to keep the bonds that she has built and hold onto special friendships due to this continued connection.
The preschool staff has found special ways to leave surprises at the front door or mail a letter to help our daughter know she is missed, loved and important. We receive emails and lesson plans to explain what lessons should/could be taught and we also receive thoughtful emails and texts with words of encouragement that include bible verses and prayers aimed at the families.
We have had lesson and activity pack pick up times where her teacher has made a packet for her and made sure to be there to wave and smile at her from a distance.
Distance learning has been a challenge but the CVCS Pre-school has helped to keep our daughter not only learning and growing but also knowing that God will take care of us. Cedar Valley Christian School has a staff that looks for creative was to connect learning with the students environment. During this difficult time with changes and interruption of routine Mrs. Snodgrass has made certain that our daughter is able to remain connected to her school and activities." -J. Davis, CV mom

---
Statement of Faith
Cedar Valley Christian School is a ministry of Cedar Valley Bible Church and as such follows its doctrinal statement. The elders of Cedar Valley Bible Church hold to the truth that, "All Scripture is inspired by God and profitable for teaching, reproof, correction and training in righteousness." (2 Timothy 3:16) We also understand that the Old and New Testaments Scriptures are to be interpreted in a historical, grammatical, literal fashion. So then, when questions arise concerning the character of God, His plan regarding judgment and salvation for man, the person and work of Jesus Christ and the ministry of the Holy Spirit in the lives of the saints, our final authority is the Word of God.
---
Bible
The Bible is inspired of God, inerrant and infallible in the original documents, written by human authors moved by the Holy Spirit to write the very words of God. We believe the Bible to be the final authority in all matters of faith and practice. (Psalms 19:7-9; 2 Timothy 1:13; 2 Timothy 3:15-17; I Peter 1:20-21)
God
God eternally exists in three persons, Father, Son and Holy Spirit – and these three are one God. We believe in one God the Father Almighty, creator of heaven and earth, and of all things visible and invisible. He has revealed Himself in creation, through Old and New Testament prophets, through direct intervention in history, and in His Son Jesus Christ. (Genesis 1:1; Psalms 90:2; Matthew 28:19; Romans 1:20; Colossians 1:17; Hebrews 1:1-4)
Jesus Christ
Fully God and fully man, The Lord Jesus Christ was conceived of the Holy Spirit, born of a virgin in order to die a sinless, substitutionary death and thereby redeem sinful man. The proof that He accomplished this mission was His bodily resurrection from the dead and ascension to God's right hand where he now ministers as our Great High Priest. (Luke 1:34-35; John 1:1,2 14; Romans 3: 34-35; Romans 5:6; Romans 8:34; I Corinthians 15: 3-4)
Holy Spirit
Fully divine, the Holy Spirit permanently indwells and seals every believer from the moment of salvation unto the day of redemption. The current work of the Holy Spirit is to convict the world of sin, bring new life to those who are spiritually dead, and empower all believers to live godly lives. (John 3:3-8; John 14:16-18,26; John 16: 7-11; Acts 5:3-4; I Corinthians 3:16; Galatians 2:20; Galatians 5: 16,22-23; Ephesians 1:13-14; Ephesians 4:30)
Man
God created man in His image, innocent and sinless. Man voluntarily chose to disobey God, and through Adam's sin, all men are sinners by both nature and choice, spiritually dead and separated from God, and without Christ, incapable of restoring their relationship with God. (Genesis 1: 26; Genesis 3:1-24; Romans 3:10-18; Romans 3:23; Romans 5:12; Ephesians 2:1-3)
Salvation
Salvation is a gift of God's unmerited favor to all that He has chosen. It is wholly God's work from start to finish, and cannot be obtained by good works. It is attained by all that believe in the Lord Jesus Christ and His finished work on the cross. Salvation results in forgiveness of sins, righteous status before God, and adoption into God's spiritual family. (John 1:12; John 14:6; Romans 6:23; 2 Corinthians 5:21; Galatians 3:26; Ephesians 1:7; Ephesians 2:8-9; Titus 2:11-14; Titus 3:5)
Church
The church is made up of all (both Jew and Gentile) who have trusted Jesus Christ as Savior, and in the New Testament epistles is called the body of Christ. All believers are directed by Scripture to function within the church according to their individual spiritual gifts. The local church, as established in Scripture, is made up of believers who have joined together for worship, instruction, fellowship and service. There is a complete and separate distinction between the Church as a 'people of God' and Israel. (Acts 2:42, 13:1-2; Ephesians 1:22-23; 4:7-13; I Corinthians 12:13)
Future Things
Things We believe in the personal return of Christ, in the air, for His church, to be followed by a seven-year period of tribulation. Christ will then return physically to the earth, defeat Israel's enemies, and establish a one thousand-year reign over an earthly kingdom, as promised to Israel. At the end of the thousand years, God will permanently assign Satan to the lake of fire, judge the unsaved, and establish the eternal state. (I Thessalonians, 4:13-18; Revelation 19:11-22:21)
Eternal State
All believers will experience a future resurrection of the body and reuniting with the soul. This future state is promised to all believers to enjoy an eternal existence, separated from sin, in the presence of God in glory. Those whose names are not written in the book of life will be cast into the lake of fire. This is called the second death. (Luke 16:19-26; 2 Corinthians 5:8; Philippians 1:23; 2 Thessalonians 1:7-9; I John 5:11-12; Revelation 20:11-15)
Eternal Security
All believers are secure in Christ forever. God's grace and power, not the self-effort of man, maintains salvation. (John 10:27-29; Romans 8:29-39; Hebrews 7:25; I Peter 1:3-5; I John 5:9-13)
"It's been four and a half months since we've last loaded up at 8:15am for the 12 minute drive to school.

Today, the drive that used to be so scenic is now filled with strangely open skies and huge piles of debris obstructing our view. Today, masks hang in my car, something I couldn't have even fathomed 6 months ago.

Things look different this year, no doubt, but I am so very thankful for all that stays the same...
Pulling into school and seeing Mr. Pospisil outside, waving and greeting each student by name. Sending my students inside, knowing that the teachers I'm entrusting them to are the same ones that have loved them through good days and tough ones before and will continue to do the same.
And mostly, I'm so thankful for the fact that, even though so much in life can unexpectedly change in a moment, I'm sending them into a school rooted and founded in Truth, processing those changes through the fact that God is the same yesterday, today, and forever.

These constants are so much of the reason I send them to Cedar Valley and can have peace as I wave and drive away. Surrendering them back to Jesus and entrusting them to this school we love so much.
It's the start of a brand new year, and I'm excited to see how God will use it." - Betsy Banowetz (mom to a PreK, 2nd, and 3rd grader)
"It's been four and a half months since we've last loaded up at 8:15am for the 12 minute drive to school.

Today, the drive that used to be so scenic is now filled with strangely open skies and huge piles of debris obstructing our view. Today, masks hang in my car, something I couldn't have even fathomed 6 months ago.

Things look different this year, no doubt, but I am so very thankful for all that stays the same...
Pulling into school and seeing Mr. Pospisil outside, waving and greeting each student by name. Sending my students inside, knowing that the teachers I'm entrusting them to are the same ones that have loved them through good days and tough ones before and will continue to do the same.
And mostly, I'm so thankful for the fact that, even though so much in life can unexpectedly change in a moment, I'm sending them into a school rooted and founded in Truth, processing those changes through the fact that God is the same yesterday, today, and forever.

These constants are so much of the reason I send them to Cedar Valley and can have peace as I wave and drive away. Surrendering them back to Jesus and entrusting them to this school we love so much.
It's the start of a brand new year, and I'm excited to see how God will use it." - Betsy Banowetz (mom to a PreK, 2nd, and 3rd grader)